Site of the Month
Note: I am no longer giving out this site award. - Calluna 8/2/08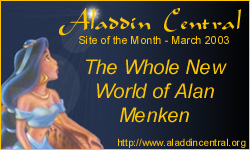 March 2003 - The Whole New World of Alan Menken
Criteria
1. Content - The site doesn't have to be completely about Aladdin, but should have some Aladdin-related content. No hate or pornographic content.
2. Design - The site should be readable and aesthetically pleasing. It shouldn't take an unreasonable amount of time to load. Most links should work, and most of the content should be finished (i.e., all the sections shouldn't say "under construction").
3. Originality - Of either content or concept. What makes this site stand out from the pack?
4. Updated - It doesn't need to be updated everyday, but there should be some sign that the webmaster hasn't forgotten it.
Nominate a Site*
* can be your own or someone else's
October 2002 - Nefret's Den of Black Sand
November 2002 - Sindie's Site of Fun
December 2002 - The Music Behind the Magic
January 2003 - The One...Fan Art
February 2003 - The Art of Agrabah